NEW
RUSTED-ON DECADENT
STYLE ACROSS THE RANGE
CORTEN STEEL (ENGINEERED TO WEATHER-RUST) NOW ACROSS ALL DESIGNS
Corten
CORTEN ENGINEERED WEATHERING STEEL
THE ULTIMATE IN INDUSTRIAL-CHIC EXTERIOR LOOK
Available across the range of unique designs, 3 panel module sizes and 2 sheet thicknesses
1.6mm Sheet Thickness
LIGHTER, MORE ECONOMIC.
Main application is the smaller 600 x 1200 screens. The 1800 x 600 are okay if affixed to a wall or fence
2.0mm Sheet Thickness
GREATER STIFFNESS & INTEGRITY.
For the larger screens 1800 x 1200 . If the smaller screens are used as dividers and exposed to the wind
PRODUCT GUIDELINES
IN DETAIL….
CORTEN steel or Weathering Steel is made up of a group of steel alloy materials which when left uncoated and exposed to the natural elements develops a very distinguishable rust patina.
CORTEN is known for its superior corrosion resistance. This is because the surface of the steel forms a protective oxide layer when exposed to the weather. In other words the steel is allowed to rust in order to protect itself. The protective surface layer continues to regenerate over years of exposure.
The information provided here is a generic guide only and to outline minimum installation requirements for warranty. Like trellis and other landscaping materials, specific applications vary and responsibility remains with the installer. This is a DIY product, basic handyman/carpentry skills are required. Consult your local retailer or a landscaping professional if unsure.
UNIQUELY ENGINEERED CORTEN STEEL
ENGINEERED TO WEATHER
The substrate (core material) of all Garden Screen™ panels is specifically engineered for outdoor vertical cladding.
SIZE & FORMAT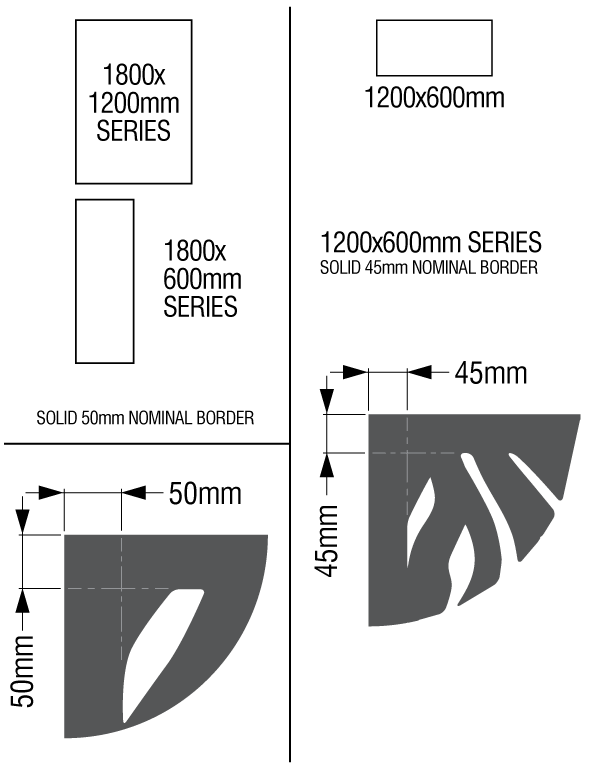 We offer 3 modular panel size ranges, to suit your project or desire. The modular or tiled cladding look is very prominent in contemporary architecture, and offers great versatility for the designer installer to create any size or formation.
Some projects may lend themselves to smaller or larger panels, or the installer skills and resources may suit either. In a step-by-step process, the smaller panels are easier and more versatile to handle and work with. Alternatively larger panels may be quicker or preferred, when you have the skills and/or people-power.
PRIVACY/ BLOCK-OUT RATING
We offer 3 engineered privacy rating 60% Light, 80% Moderate/Compliant, 90%+ High Privacy, depending on your practical application and visual desire.
See individual pattern details for more.
DESIGNER PATTERNS & LAYOUT
Modular panel formats are designed for user discretion to mount and orientate as wished.
Any design can be used in portrait or landscape orientation. However all patterns and formats are designed with a continuous repeating 'flow' whether they are geometric or organic in nature. Check individual pattern details before installing. Many are symmetrical about 180°, so they can be flipped without altering the pattern (geometric), however some repeat over 2-panels (example Marakesh), so very alternate row should be rotated 180°.
Also most of the organic patterns are designed so that they can still match up when rotated 180° which allows the installer to randomize the repeat if wished (example Daintree).
•10 YEAR WARRANTY against material rot, bloat or de-lamination under
normal outdoor 'run-off' conditions. Screens mounted in vertical plain, not submerged/ constant contact with water, soil or chemicals. Installations are the responsibility of the the installer. Directions herein must be followed.
• Panels may release rusty 'run-off' stains (dripping onto surface below). This should be considered when planning surface below. Light coloured pavers etc may stain.
• Painting or coating maintenance is not required. Corten Steel is uniquely engineered to rust on the surface but whilst maintaining core integrity.
• Suggested minimum fixing 600mm centers apart along border.
• Alternatively use a suitable construction adhesive for invisible fixing, or use a combination of the screw and adhesive eg. neat decking screw in each corner and adhesive around border.
• For best results measure, draw-up, pre-drill position and clamp before/during fixing. Use 2-3mm spacers to create a consistent joint with expansion joint, to allow for natural movement of timber materials. Plastic tile spacers, a nail/screw or off-cut will do.
• 45mm/50mm nominal border to accommodate typical fixing and conceal a 90mm/100mm post or support.
OUTDECO® Garden Screen™ carries a Material Warranty of 10 Years.
This covers your panel against the following forms of physical deterioration under normal outdoor atmospheric conditions; rot, bloat and/or de-lamination. Screen Panels must be installed according to the above MINIMUM INSTALLATION GUIDES.
The benefits to the consumer given by this warranty are in addition to and not in conflict with all other rights and remedies of the consumer under a law in relation to the goods or services to which the warranty relates.
For more help check out videos and resources in our HOW TOs or email us.

How to
Weathertex Screens
BROWSE ENTIRE SCREEN RANGE BY DESIGN