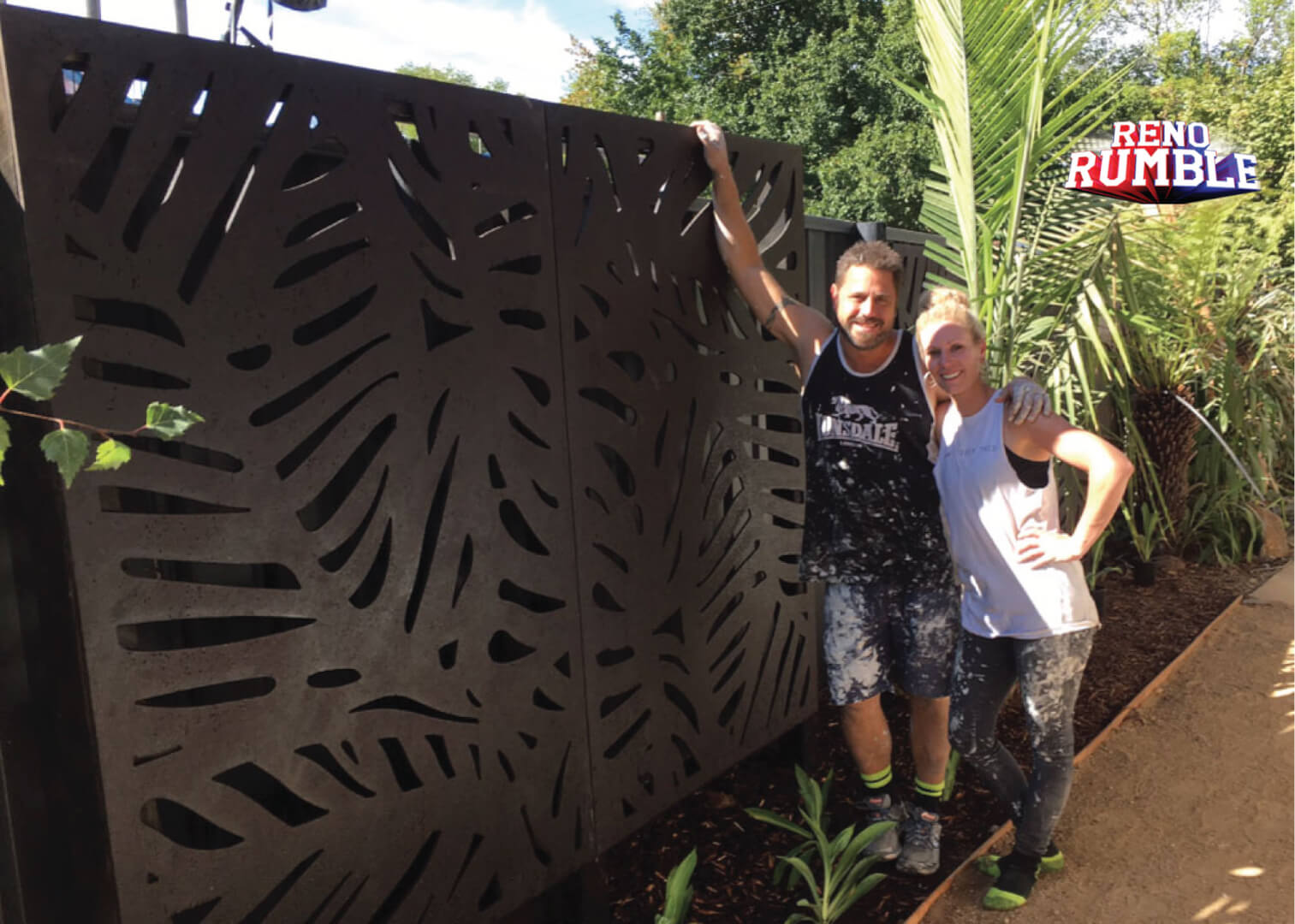 Slide 1
ALL PROJECTS LARGE & SMALL
ALL PROJECTS LARGE & SMALL
ALL PROJECTS LARGE & SMALL
STONEFIELD™ 80% 1800mmx1200mm
BUNGALOW™ 80% 1200mmx600mm
EASY TO INSTALL
NO PAINTING REQUIRED
EASY TO INSTALL
NO PAINTING REQUIRED
Ready
READY TO INSTALL IN 3 VERSATILE SIZES
READY TO INSTALL IN 3 VERSATILE SIZES
READY TO INSTALL IN 3 VERSATILE SIZES
BUNGALOW™ 80% 1200mmx600mm
BUNGALOW™ 80% 1200mmx600mm
3 PRIVACY LEVELS ACROSS A MYRIAD OF ARCHITECTURAL DESIGNS
3 PRIVACY LEVELS ACROSS A MYRIAD OF ARCHITECTURAL DESIGNS
Ready - copy
VERSATILE MODULAR PANEL SIZES
VERSATILE MODULAR PANEL SIZES
VERSATILE MODULAR PANEL SIZES
WOOLOOMAI™ 80% 1200mmx600mm
WOOLOOMAI™ 80% 1200mmx600mm
MAKES DESIGN & INSTALLATION EASIER
MAKES DESIGN & INSTALLATION EASIER
AN ARCHITECTURAL STYLE FOR EVERY PROJECT
1800X1200mm SCREEN RANGE
DAINTREE™ 80%
1800X1200mm
EMPIRE™ 90%+
1800X1200mm
ORIENT™ 90%+
1800X1200mm
MONSOON™ 80%
1800X1200mm
STONEFIELD™ 80%
1800X1200mm
1800X600mm SCREEN RANGE
MOUNTAIN ASH™ 90%+
1800X600mm
MODINA™ 90%+
1800X600mm
STAR JASMINE™ 60%
1800X600mm
BYRON™ 80%
1800X600mm
1200X600mm SCREEN RANGE
MAHJONG™ 60%
1200X600mm
LEAFSTREAM™ 60%
1200X600mm
BUNGALOW™ 60%
1200X600mm
MARAKESH™ 80%
1200X600mm
LANTERN™ 80%
1200X600mm
HERRINGBONE™ 80%
1200X600mm
OSAKA™ 80%
1200X600mm
NEST™ 80%
1200X600mm
WOOLOOMAI™ 80%
1200X600mm
STAR ANAIS™ 90%+
1200X600mm
GONDWANA™ 90%+
1200X600mm
CUMULUS™ 90%+
1200X600mm
ORCHARD™ 90%+
1200X600mm
3x MODULAR PANEL SIZE OPTIONS
Gardenscreen™ is now available in 2 handy sizes, to give you even more flexibility and suit any outdoor project. Your selection maybe based on the look you love, but consider different sizing may be preferable in certain projects.
All panels come in 9mm nominal thickness, with factory finished with the uniquely formulated Decoshield finish, ready for external installation.

3x PRIVACY % RATINGS
Each pattern design has an engineered privacy/ blockout rating. This indicates the amount of UV or vision that is blocked or screened-out. For many projects this may not be a critical point, but it does give a guide to the visual effect, and for many projects, this privacy rating is a compliancy requirement. For instance under the BCA (Building Code) new dwelling with features overlooking neighbours (balconies, some windows etc) a minimum of 80% screening is required. In other instance balastrades or front boundary fence may have a minimum or maximum screening requirement. Under many local councils boundary/easement fences can be extended beyond the nominal solid height with an extension with maximum screening 80%. Information relating to compliance and any rules and regulations may change or vary, so please check with your local authority.

60% LIGHT-AMBIENT
Example: LEAFSTREAM™
Create a delicate airy feel. Great for decorative effects, or to create visual partitioning without dramatically cutting-out natural light.
These design are popular for interior effects, offset on walls, or as suspended ceiling details.
80% MODERATE PRIVACY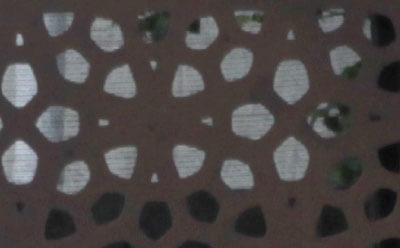 Example: MARAKESH™
The most versatile rating. Creates decadent light and shadow effects, whilst offering considerable privacy or barrier partitioning, where needed. Great for open (seen from both sides) partitioning, or for shadow walling effects (framed against a wall or fence). Numerous regulated compliances for screening on new-builds or boundary structures work to an 80-20% rule for privacy or sunlight blockout. For regulations consult your builder or local council.
90%+ HIGH PRIVACY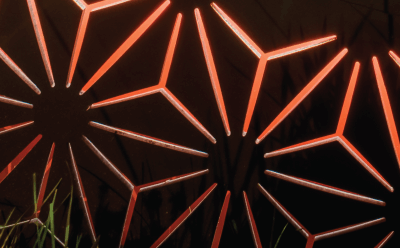 Example: STAR-ANAIS™
The ultimate in privacy. This gives an almost total blockout, with only fine shards of light or vision when looking at the panel straight-on. The privacy and visual effect is on-par with traditional timber slat screening, but opens up a whole palette of new ways to see a vertical surface. These design are also very effective for back lighting with LEDs
WHAT'S YOUR FINISH OF CHOICE?
THE NATURAL RUSTIC LOOK

The vast majority of OUTDECO® users install screen panels in outdoor conditions without secondary coatings.
The natural colour of the product (Decoshield™ Natural) and its subtle rustic weathering. However it's also easy to coat in an exterior colour of your choice, with maintenance intervals similar to a wooden deck you can use deck coatings to maintain a rich sealed look.
SEALED/STAINED EFFECT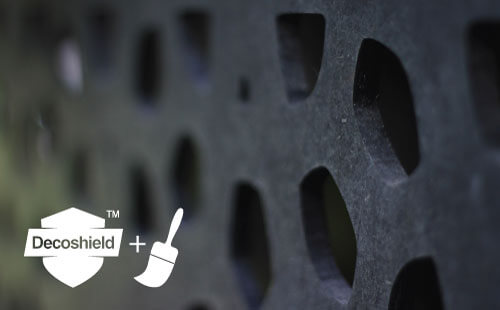 A broad selection of Low VOC water-based seal and stain coating products are commonly available for natural timber decking. These products can be applied directly to screen panels to create a of different stained colors or to re-invigorate the natural colors of the panel. Exterior decking and timber coating products are commonly available at your local hardware retailer.

COLORS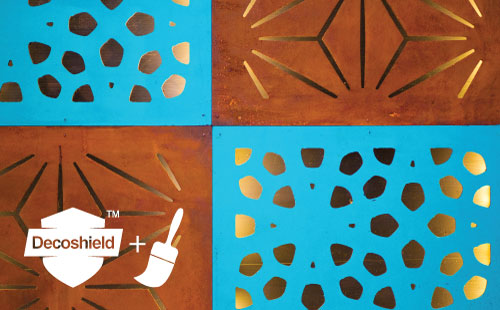 A broad selection of Low VOC water-based exterior opaque paint products are commonly available for exterior timber. These products can be applied directly to screen panels to create a selection of stunning colors. Exterior decking and timber coating products are commonly available at your local hardware retailer.
YOUR CHOICE OF PREMIUM AUSTRALIAN EXTERIOR FINISHES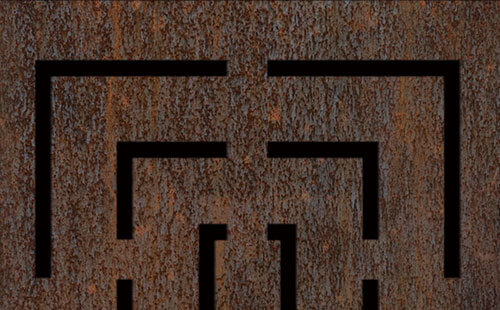 WHY CORTEN ENGINEERED WEATHERING STEEL?
Corten is the ultimate and latest architectural industrial chic finish. Prevalent in high-end architectural cladding and decadent features, Corten is engineered specifically to rust and create a rich patina on the surface, whilst protecting the core of the sheet. When rusted corten has twice the tensile strength of mild steel and doesn't require any maintenance.

WHY DECOSHIELD PROTECTED WEATHERTEX?
This the classic look and format OUTDECO pioneered as a chic and unique sustainable alternative to metal screens. The hardwood board is more stable than most exterior timbers, but offers a soft organic look and feel, plus the knowledge you've made a carbon negative choice!